Collision course
Written by Graham Buck
April 2012
The Titanic's centenary saw the sinking of the Costa Concordia which could cost up to US$1bn. Graham Buck looks at the environmental risk and liability issues arising out of the largest ever maritime loss

In an ironic coincidence, this year, which marks the centenary of RMS Titanic's sinking, began with history repeating itself. Italian cruise liner Costa Concordia, another state-of-the-art passenger vessel, hit rocks and capsized off the island of Giglio on the night of January 13-14 with the loss of 32 lives. At more than twice the size of the Titanic – its internal volume was around 112,000 in gross tonnage against 46,000 for the doomed White Star liner – Concordia is the largest ever passenger vessel to sink.

Despite initial hopes that the ship could be salvaged, parent company Carnival Corporation announced last month that it regarded Concordia as a "constructive total loss". Although this verdict has to be verified by the vessel's hull insurers, if they concur it will trigger a US$515m payment.
The bad corporate publicity resulting from the disaster was compounded only six weeks later when another of the company's vessels, Costa Allegra, lost power mid-voyage. The two incidents helped push Carnival to a first quarter loss of US$139m against a US$152m profit for the same period a year earlier.

A multitude of liability issues arising from Concordia's loss have yet to be resolved. Carnival faces dozens of lawsuits and the fixing of compensation payments to the 4,200 passengers and crew. Vital information on the disaster was given to a panel of court-appointed experts at the beginning of March for a pre-trial hearing in Italy. The review process is expected to take until July, when reports by four experts will be presented and the court will determine whether criminal charges are justified. So it's unsurprising that many insurers affected by the loss, as well as Carnival's broker Aon, refuse to comment on it publicly.

However The Standard Club, the mutual insurance association owned by its ship owner members, promptly confirmed that it was the ship's lead protection and indemnity (P&G) insurer and insured Concordia jointly with "another member" of the International Group of P&I Clubs (IG); quickly identified as Steamship Mutual. Both will share the first insured US$8m of liability claims above Carnival's US$10m deductible. Above this level the next US$52m layer comes from the IG's pooling system and reinsurance programme with the London and international reinsurance markets. The Standard Club has advised reinsurers that a further US$280m-290m of losses are expected over and above the US$60m that will be met by IG club members.

Hull insurance for the vessel was subject to a US$30m self-insured deductible, which will be borne by Carnival, with the remainder covered by a consortium of insurers led by XL Insurance. Lost passenger revenue resulting from Concordia's demise was reported to be uninsured.

Averting disaster

If any silver lining can be discerned in the black cloud of the disaster, it is the relatively low fatality rate among passengers and crew and the averting of a potential environmental disaster. Concordia came to rest in part of the Tuscan Archipelago National Park, Italy's largest protected area for marine life and home to some important plants, birds and marine life. The vessel contained 2,200 tonnes of heavy fuel oil and 185 tonnes of marine gas oil and diesel, spread over 17 tanks.

Soon after news of the disaster broke salvage firm SMIT Salvage, part of Dutch group Royal Boskalis Westminster, approached Carnival and the vessel's underwriters to win a contract for removing the fuel and controlling any resulting pollution. Aon is also reported to have sent its representative to the site to liaise with their client and local authorities.

Within 10 days of the disaster barges had moved in and oil barrier booms were erected, while salvage divers placed hot tap valves on the vessel's hull before drilling through the hull into the tanks. Adverse weather conditions initially held up pumping operations for nearly three weeks, but by mid-February oil was being removed from the vessel and much of the work had been completed by early last month.
"Critical impact on the environment was averted, thanks to the professional work done by salvage experts and the favourable conditions that largely prevailed after the disaster," says Munich Re's nautical technical expert Benedikt Funke.

"Costa Concordia didn't move significantly, which allowed work to be performed without long interruptions. Using the hot tapping process, the salvage crew was able to remove heavy fuel oil from bunkers safely and without leakage."

Funke reports that for further environmental protection the vessel is enclosed by oil containment booms, which are highly effective in calm seas. Assuming that weather conditions in the region remain favourable, even if leakage was to occur it should be minimal and easy to clean up, so any serious environmental risk appears increasingly unlikely.

A constructive total loss will involve the lengthy process of removing the wrecked vessel. As Ben Abraham, who heads the P&I team at Willis observes, the sheer size of the ship means that the task is unprecedented and will be further complicated by its precarious positioning. Concordia rests on a rock ledge and could easily slide off a sea cliff into deeper waters. Peter Berdowski, chief executive of Boskalis Royal Westminster – which is also bidding for the salvage contract – neatly summarised the challenge thus: "You have to imagine a big, fat whale the size of a block of flats lying on its side, accidentally supported by two rocks."

Abraham cites previous events that offer useful experience for the challenge ahead, such as the removal of the Tricolor, a Norwegian car carrier that sank in the English Channel in December 2002. Salvage teams used carbide-encrusted cutting wire to divide the wreck, which posed a danger to other shipping, into more manageable chunks for removal. While the technique had already been used on the damaged fore part of the stricken Russian nuclear submarine Kursk before it was raised, this was the first time it had been applied to such a giant vessel and the project lasted from July 2003 to late October 2004. Four years later, windstorm Kyrill damaged the container ship Napoli in January 2007, which beached at Lyme Bay and was deliberately blown apart by a series of controlled explosions after attempts to refloat the vessel exposed serious cracks in the hull.

Clearing Concordia from its current resting place could take up to two years. "Dealing with the wreck will provide a useful step forward in dealing with future incidents," says Abraham. The cost of refloating has already been predicted by Berdowski as more than €100m, and cutting up the vessel could prove the more economic option.

A grim record

The huge size of many modern vessels inevitably poses a challenge to underwriters, says Duncan Southcott, regional head of marine at Allianz Global Corporate & Specialty. "We know the cost of these vessels in the event of a total loss, but the cost of re-floating or salvaging them must also be taken into account."

As the International Union of Marine Insurance (IUMI) can testify, the loss record on hull insurance was pretty dire even before this year. "Insurers have recorded an annual underwriting profit in only one year out of the past 15," says Southcott. "So they're not working to particularly generous margins and Concordia is the biggest loss that people can remember in the hull area."

"Yet there is still no shortage of capacity in the market. But recent results, coupled with this massive loss means that underwriters will need to take action."

With even cargo insurance, which traditionally has performed better than hull insurance, also performing poorly in recent years, IUMI's president, Ole Wikborg, has spoken of Concordia's loss potentially being "a market-changing event". At the same time he conceded that as much of the market was untouched and the hull and machinery sector still have much spare underwriting capacity this is far from being a foregone conclusion. Wikborg suggested that the current economic environment, in which insurers can no longer rely on generous investment returns to offset underwriting losses, could be just as significant in hastening the end of soft market conditions.
What appears less likely is that the magnitude of the loss will trigger a major change of attitude by the cruise industry, which has steadily increased the size of ships. "Economies of scale, and the need to provide all the facilities now expected by passengers, require larger vessels," says Abraham.

Last month the chief executive of Carnival's main rival, Royal Caribbean Cruises, rode to the defence of giant cruise liners after criticisms that they make a swift evacuation more difficult. "The truth is that the newer, bigger ships are as safe, or safer, than any comparable smaller ships," claimed Richard Fain. Indeed, his group's flagship vessels, Oasis of the Seas and Allure of the Seas are even bigger than Concordia, with capacity for 5,400 passengers and nearly 2,400 crew. So unless their passengers adopt the "small is beautiful" principle, the industry is unlikely to downsize just yet.
Related Articles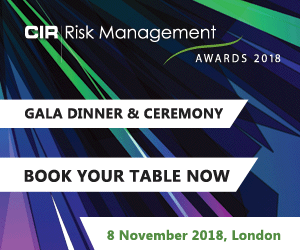 Power transmission and distribution risk
Description
Mark Evans talks to Barry Menzies, head of MIDEL ester-based dielectric fluids, at specialist manufacturer M&I Materials, to discover how ester fluids can help reduce the risks associated with transformer applications.
Most read stories...

Download the latest
digital edition of
CIR Magazine