Study explores legal and regulatory considerations of parametrics in insurance
Written by staff reporter
2018-01-05

With parametric triggers having been used in the capital markets for 20 years or more, law firm Clyde & Co has completed a study into the legal and regulatory considerations that arise as they are increasingly used in insurance.

The report draws on insights from Clyde & Co's global network of insurance lawyers, explores the growth of parametric insurance and considers the important role it has to play in building resilience to natural catastrophes.

The protection gap means that in middle or low-income countries the uninsured proportion of catastrophic losses often exceeds 90%. Meanwhile, the Bank of International Settlements calculates that, especially in developing markets, the worst natural catastrophes can in some cases permanently reduce a country's GDP by almost 2%. In 2017, economic losses caused by natural catastrophes looked set to top US$300bn (according to Swiss Re) compared with an average of US$178bn for the previous 10 years.

The report explores the benefits of parametric insurance – which centre on speed, certainty and the ability to plan ahead – and how such products have been used so far. Crucially, it looks at some of the legal and regulatory challenges that have already or may be faced in the future, and how these have been and can be mitigated. It contends that the way parametric products are treated in the law and by regulators will evolve and become clearer as case law and precedent develops. But it suggests that with the level of support currently being given by governments around the world, together with demand from buyers and proven success of parametric insurance products to date, regulators and law makers are expected to support and encourage the responsible roll-out of parametric insurance rather than attempt to hold it back.

Clyde & Co partner, Nigel Brook, says parametric insurance products are developing rapidly at local, regional and national level as they provide an elegant solution for risk-transfer concerns, often for populations that were previously uninsured and for whom the protection gap has traditionally been widest.

"That is why they are gaining so much attention, particularly following a year where the threat from natural disasters has been writ so large," he says. "With continued support and increased understanding, parametric insurance can fulfil its vast potential and, alongside traditional insurance and other novel forms of risk transfer, play a key part in closing the protection gap. This paper sets out to provide additional background and ballast to support the industry and other stakeholders as the development of parametric insurance continues apace."

The paper explores the question of basis risk; the concept of insurable interest; and the indemnity principle, which means that in theory, in certain jurisdictions, losses must be valued or assessed before claims can be paid.

Many of these issues can and have been successfully addressed. Different jurisdictions' regulators and lawmakers are finding novel ways to approach parametric insurance and foster these products' development and deployment in local markets. Clyde & Co's study considers schemes where improved modelling has been deployed to reduce basis risk, where mobile networks and satellite data are deployed to reach previously underinsured populations, or where mixed models are combining parametric and traditional indemnity solutions.
Related Articles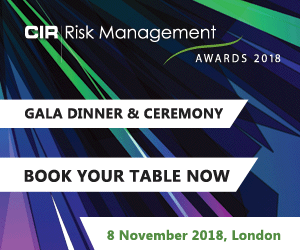 Download the latest
digital edition of
CIR Magazine
Power transmission and distribution risk
Description
Mark Evans talks to Barry Menzies, head of MIDEL ester-based dielectric fluids, at specialist manufacturer M&I Materials, to discover how ester fluids can help reduce the risks associated with transformer applications.
Most read stories...