Business Continuity Awards: 2013 finalists
Written by the Business Continuity Awards Team
2013-03-27
The Business Continuity Awards recognise the endeavours of business continuity, security, resilience and risk professionals. Judged by an independent panel of experts for exceptional performance, service and results in this dynamic industry, this year's winners will be announced and awarded at the Gala Dinner on Thursday 30th May 2013 – an evening that brings together industry leaders for a night of networking and celebration.

This year's shortlist follows...

Business Continuity Manager of the Year
Abdulrahman Alonaizan, Manager, Business Continuity, Arab National Bank
Khalid Bahabri, Head of Operational Excellence, NCB capital
John Gray, Business Continuity Consultant, Hewlett-Packard
Marcus Hamilton, Business Continuity Manager, KPMG
Nigel Knight, Business Continuity Manager, Xchanging
Rob McAssey, Profit Protection and Business Continuity Manager, Adidas
Arnab Mukherjee, Lead Consultant, Business Continuity, Colt Technology Services India
Michelle Mullins, Group Business Continuity Manager, Lloyd's Register
Unnikrishnan Padinjyaroot, Global Head BCP and Risk Management, Hewlett-Packard

Business Continuity Strategy of the Year
Airwave
Atos Consulting
Capital One
Deloitte & LOCOG for its Risk, Resiliency and Readiness Strategy
KPMG
Lloyd's Register
Rizal Commercial Banking Corporation (RCBC)
The O2
USAA
Xchanging

Industry Newcomer of the Year
Rakhee Bhimji, Continuity & Resilience Consultant, Atos Consulting
Garry Dulson, General Manager, Business Continuity UK & Ireland, TNT Express
Jon-Paul Gabriele, Business Continuity Co-ordinator Staffordshire and Stoke-On-Trent Partnership NHS Trust
Adele Lock, BCM Relationship Manager, HSBC Global Banking and Markets
Andrew MacLeod, Business Continuity Consultant, Needhams 1834
Chris McBrayne, BCRS Executive UK and Ireland, IBM
Tanya Shah, Consultant, Deloitte
Louise Taylor, Business Continuity Manager, Hewlett-Packard
Andrew Towler, Business Continuity Manager, Hewlett-Packard

Business Continuity Strategy through Partnership
Medical Research Gambia Unit & Cambridge Risk Solutions
BP & Consultants
Canary Wharf Group BC Team & Canary Wharf Estates
PKB with LeadingEdge & Biscon Planning

Crisis Management Strategy of the Year
Camelot Group
IBM
KPMG

Business Continuity Initiative of the Year
Capital One
Clifton Risk Management & HM Revenue and Customs
Hewlett-Packard
IBM
Medical Research Council & Needhams 1834
SunGard Availability Services
TNT Express UK & Ireland
Zurich Insurance Group

Public Sector/Not-For-Profit Continuity Manager of the Year
Peter Johnson, Emergency Planning and Business Continuity Manager East Kent Hospitals University NHS Foundation Trust
Jon-Paul Gabriele, Business Continuity Co-Ordinator, Staffordshire and Stoke-On-Trent Partnership NHS Trust

Business Continuity Consultant of the Year
William McLeod Scott, Director, Deloitte
Andrew Voules, Business Continuity and ITDR Consultant, Phoenix

Best Contribution to Continuity and Resilience
Canary Wharf Business Continuity Team
Cross-Sector Safety & Security Communications Partnership (CSSC)
Deloitte Business Continuity and Resilience Team
Emergency Planning Society's PWG on BCM, for the 'Business Continuity for Dummies' Guide
Itex
Milton Keynes Business Resilience Forum, Milton Keynes Council
Phoenix
SunGard Availability Services
Xchanging

Resilience in Infrastructure
Airwave, The Airwave Network
IBM & London 2012
SunGard Availability Services
TelecityGroup

Business Continuity and Insurance Partnership
Aon Global Risk Consulting & Business Continuity
AREPA & REACT
Aviva & Hewlett-Packard
Sutcliffe & Co and IASME
Xchanging

Most Effective Recovery of the Year
Business Continuity Transport
Citigroup
Deloitte
DHL Supply Chain
EE
Guardian News & Media
NHS Blood and Transplant
SunGard Availability Services
Walgreens

Business Continuity Personality of the Year: VOTE NOW
Tim Armit, Managing Director, Clifton Risk Management
Andy Osborne, Consultancy Director, Acumen
Vaidhyanathan Ramachandran, Senior Vice-President, Risk & Continuity Solutions, BSi Group, India

Business Continuity Management Planning Software of the Year
ClearView Continuity
Controll-IT
eBRP Solutions
Factonomy
Linus Information Security Solutions
Recovery Planner
Services Conseils RDI

Business Continuity Team of the Year
Arab National Bank
Canary Wharf Group
Capital One
Hewlett-Packard Business Continuity Transition and Transformation Team, UK
Hewlett-Packard GBS BCP and Risk Management Team, India
Nationwide
The Co-operative Group
USAA
University of Exeter

Student of the Year
We do not publish a shortlist in this category. The winner will be announced at the Gala Dinner.

Most Innovative Solution of the Year
Factonomy
Needhams 1834 & Medical Research Council
Phoenix
SWN Communications
Quorum

Specialist Company of the Year
Airwave
Business Continuity Transport
Ear Productions
F24
Harwell Restoration
Plan B Disaster Recovery
Resilient Networks
Vocal

Most Innovative Product of the Year
Asigra
Blackboard
Connexion2
Factonomy
Geminare - Windows Azure Cloud
Resilient Networks
SunGard Availability Services
SWN Communications
Vocal

Lifetime Achievement
We do not publish a shortlist in this category. The winner will be announced at the Gala Dinner.
Related Articles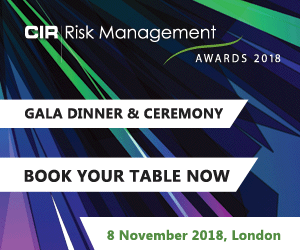 Download the latest
digital edition of
CIR Magazine
Power transmission and distribution risk
Description
Mark Evans talks to Barry Menzies, head of MIDEL ester-based dielectric fluids, at specialist manufacturer M&I Materials, to discover how ester fluids can help reduce the risks associated with transformer applications.
Most read stories...