AXA signs credit and political risk agreement with Anvil
Written by staff reporter
2017-04-03
Credit and political risk MGA, Anvil One has signed a partnership with AXA Corporate Solutions that will allow Anvil with AXA to underwrite credit and contract frustration risks, both trade and non-trade, as well as political risks.

Group head of specialties, AXA Global P&C, and non-executive board member of Anvil, Maxime Ambourg, said the partnership with Anvil is in line with its P/C commercial lines ambition to expand its scope of specialty lines, and to further develop its credit risk and political risk insurance activity within an increasingly uncertain global economic and political environment. "There is a growing demand from banks and corporates to further purchase credit risk and plitical risk covers which are strategic partners for AXA,"

Managing director at Anvil, Navaid Farooq, added, "This agreement provides a great opportunity for Anvil to deliver underwriting expertise and flexibility in the credit and political risk market through partnering with S&P AA- rated insurer AXA Corporate Solutions UK. Anvil will be able to underwrite contract frustration and political risk policies up to 7 years and credit risk policies up to 5 years."

Anvil, through its partnership with AXA CS UK, will be able to provide policy limits up to US$25m for contract frustration and political risk policies and US$15m for credit policies.
Related Articles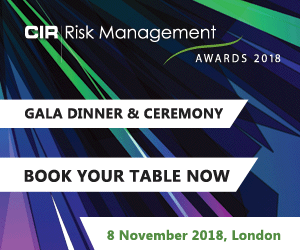 Download the latest
digital edition of
CIR Magazine
Power transmission and distribution risk
Description
Mark Evans talks to Barry Menzies, head of MIDEL ester-based dielectric fluids, at specialist manufacturer M&I Materials, to discover how ester fluids can help reduce the risks associated with transformer applications.
Most read stories...