Willis Towers Watson to acquire France's OAAGC
Written by staff reporter
2017-02-20
Willis Towers Watson has entered into exclusive negotiations to acquire French aviation brokerage, OAAGC. Paris-based OAAGC (Office d'Assurances Aériennes G. de Cugnac) was founded in 1898 and its team of 16 is dedicated to aviation insurance solutions. OAAGC and its team have a long-standing relationship with Willis Towers Watson.

OAAGC has been in partnership with Willis Towers Watson through Gras Savoye, which owned 40% of OAAGC, and through its links with the aviation team at Willis. Willis acquired Gras Savoye in December 2015 before its merger with Towers Watson in January 2016 created Willis Towers Watson.

The acquisition would transfer OAAGC's book of business and the full OAAGC team to Willis Towers Watson, which also operates in France as Gras Savoye. OAAGC's existing client base would continue to be serviced by the same team.

Head of Willis Towers Watson France, Gilles Bénéplanc, said: "I am delighted with this transaction, which would strengthen our company Gras Savoye – Willis Towers Watson. The contribution of OAAGC teams, whose expertise is highly acknowledged in the aviation insurance sector, would help us to better serve our customers in terms of people and risk advising, brokerage and solutions in the aircraft industry."

Eric de Cugnac, President of OAAGC, said: "OAAGC has had a long and successful relationship with the Willis Towers Watson group for over 40 years, and that has been further enhanced with the purchase of our partner Gras Savoye. The transaction would allow the expertise of our staff to further develop via full access to the extensive resources of Willis Towers Watson, which in turn would benefit our client's experience. I am very pleased and proud that I am part of this historic and unique combination."

The deal is subject to consultation with workers' councils, the terms of the transaction undisclosed.
Related Articles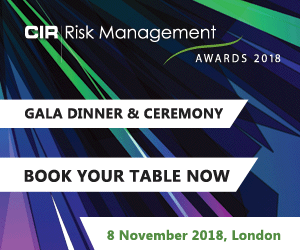 Download the latest
digital edition of
CIR Magazine
Power transmission and distribution risk
Description
Mark Evans talks to Barry Menzies, head of MIDEL ester-based dielectric fluids, at specialist manufacturer M&I Materials, to discover how ester fluids can help reduce the risks associated with transformer applications.
Most read stories...