UK firms to get government support to boost cyber security
Written by staff reporter
2015-01-20
Measures to help UK businesses face the cyber security challenge and help UK cyber security firms "tap into the US market" have been announced following the Prime Minister's visit to the US. In a bid to win more British business for the growing sector, a group of 12 UK cyber security firms have also travelled to Washington to meet a host of US businesses.

Prime Minister David Cameron said: "The UK is already leading the way in cyber security and this government is committed to ensuring it continues to be a leader in this multi-billion dollar industry. That's why on this trip I'm showcasing some of the leading UK cyber security small businesses, some of whom are already beating off the competition and opening offices and securing contracts in the US. We're also stepping up the practical support we offer UK cyber security companies to make sure they have the best opportunity to win even more business in the US.

"We need to make sure the UK remains one of the most cyber secure places in the world to do business. It's great news that even more companies have signed up to our Cyber Essentials Scheme to keep themselves safe and we will continue to invest in supporting companies of all sizes with their cyber security.

Business secretary Vince Cable added: "The UK has a world-leading digital economy, growing three times as fast as our overall economy and employing over a million people. Our businesses earn £1 in every £5 from the internet, so it's vital that we work with them to combat online crime, and make sure large and small firms alike are protected.

"The measures we're announcing today will boost the UK cyber security industry and ensure UK Plc can continue to stay safe and thrive online.

"The UK cyber security sector has world-leading capabilities and is worth over £6 billion, employing 40,000 people. UK cyber security exports increased 22% from £850 million to over £1 billion during 2013 and are on track to meet a target of £2 billion by 2016.

Further cyber security announcements include:

•Improved cyber security information and advice for businesses via the government's Business Support Helpline, the Business Growth Service and www.greatbusiness.gov.uk
•Funding for a new cyber security "Pre-Accelerator" programme to support early stage cyber security start-up firms and fast track them to success
•Funding for a second US-UK Cyber Security Innovation Summit to showcase UK cyber companies, increase collaboration with US partners and support innovation

Companies across all sectors are realising the importance of protecting themselves from cyber threats and taking advantage of the support the UK government already offers to help businesses protect themselves. Five more FTSE100 companies (National Grid, GlaxoSmithKline, Standard Chartered Bank, Aberdeen Asset Management and Babcock International) and data firm EMC have today announced their intention to adopt the UK's Cyber Essentials Scheme. The Cyber Essentials Scheme was launched in June 2014 and provides a set of basic controls to help all organisations protect themselves against the most common cyber threats. Over 200 companies have now achieved the Cyber Essentials badge, with a further 150 in the process.

The announcements strengthen the government's National Cyber Security Programme (NCSP) which was launched in 2011 and is backed with £860 million investment. It furthers the work of the Cyber Growth Partnership, the joint industry and government group promoting growth and exports in the UK cyber security sector.
Related Articles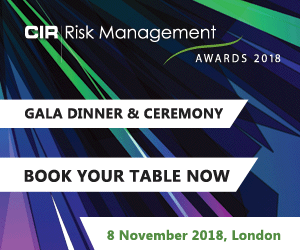 Download the latest
digital edition of
CIR Magazine
Power transmission and distribution risk
Description
Mark Evans talks to Barry Menzies, head of MIDEL ester-based dielectric fluids, at specialist manufacturer M&I Materials, to discover how ester fluids can help reduce the risks associated with transformer applications.
Most read stories...