Risk awareness among SMEs improving
Written by staff reporter
2016-09-27
The risks posed by cyber attacks and reputational damage are increasingly worrying small and medium-sized enterprises, according to Zurich Insurance Group's third annual global SME survey. It found a greatly improved awareness of risk amongst organisations in this category, with over 90% of SMEs surveyed now saying they are aware of the risks facing their business.

The survey polled 2,600 C-suite executives and managers at SMEs across 13 countries in Europe, the Americas and Asia-Pacific. Among respondents, concerns about cyber crime have almost tripled since 2013 (11% vs 4%), while worries about reputational damage have also increased (14% vs 8% three years ago). These were the fastest growing perceived risks since the survey began in 2013.

Just under a third (31%) rated the impact of competition on margins as the greatest risk facing their business, a slight decline from previous years. Lack of consumer demand continued to be the second-greatest risk, and has increased in prominence since 2013 (30% vs 24%). Globally, SMEs' risk awareness increased over the past years – only 7% don't see any risks for their business in 2016.

Global economic recovery and growth have led SMEs to be more optimistic about growth. In 2016, only 8% saw no opportunities for growth, down from 16% in 2013. Despite this, SMEs are more focused on their home markets, reducing foreign expansion ambitions (10% vs 14% in 2013). As in previous years, SMEs have continued to reduce their costs and expenses to fund growth (33% vs 26%).

European SMEs' awareness and perception of various types of risk have increased since the survey started in 2013. Concerns about cyber crime tripled among European SMEs (12% vs 4%), while the perceived risk of reputational damage doubled (14% vs 7%). Concerns about fire risk also doubled (10% today vs 5%).

In the US, risk awareness has risen across the board. Interestingly, technology failures and vulnerabilities feature among the top three risks in the US – significantly higher than in the other regions surveyed. The SMEs' concerns over risks of theft (18% vs 9%) and damage related to corporate transport (14% vs 6%) also roughly doubled.

One-third of SMEs surveyed in the US see potential to grow by exploring new sales channels – almost twice as many as in other regions. But only 6% believe that investing in the workforce would help them to grow, a much lower percentage than in other parts of the world.
Related Articles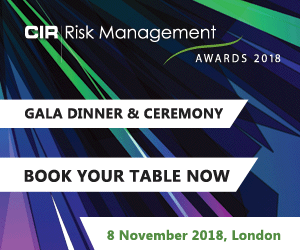 Download the latest
digital edition of
CIR Magazine
Power transmission and distribution risk
Description
Mark Evans talks to Barry Menzies, head of MIDEL ester-based dielectric fluids, at specialist manufacturer M&I Materials, to discover how ester fluids can help reduce the risks associated with transformer applications.
Most read stories...