London will retain global position post-Brexit, brokers assure
Written by staff reporter
2017-10-03
The latest business confidence survey conducted on behalf of DAS UK Group has found that 80% of UK insurance brokers expect London to retain its place as a leading global insurance market, despite the country's decision to leave the European Union.

The 'DAS Market Barometer' of 250 brokers also found that a similar number were bullish about business prospects over the next two to three years, with 79% expecting their company to grow. Almost half (49%) of those surveyed were even more optimistic, expecting revenues to grown by more than 10% over the next two to three years.

Growth optimism amongst brokers was highest in the South East of England and London with 87% and 85% respectively expecting to grow. The least optimistic region was Wales with 58% responding positively, followed by Scotland and Northern Ireland at 69%. Overall, only 2% of brokers surveyed expected to downsize over the next two to three years.

Managing Director Insurance UK & Ireland, DAS UK Group, James Henderson, said: "It's clear from our latest quarterly survey that broker confidence both in their own business performance, and London's ability to facilitate it, remains very buoyant. Furthermore, with only a small number making any form of contingency plans to set up in the EU, I hope this optimism is rewarded by the government's negotiating team as they consider the needs of brokers and the wider UK insurance industry."

Over a year after the Brexit referendum vote, the research shows that, not only does confidence remain in London's position in the global insurance market, but few brokers have plans to leave the UK. Of the 250 brokers surveyed, only five have made contingency plans to move part or all of their business operations to the EU once the UK has withdrawn from the European Union.
Related Articles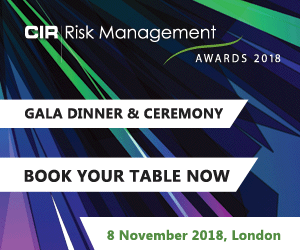 Download the latest
digital edition of
CIR Magazine
Power transmission and distribution risk
Description
Mark Evans talks to Barry Menzies, head of MIDEL ester-based dielectric fluids, at specialist manufacturer M&I Materials, to discover how ester fluids can help reduce the risks associated with transformer applications.
Most read stories...