London company market records £21.6bn in premium income for 2015
Written by staff reporter
2016-10-18
Overall premium income for the London company market in 2015 was £21.645bn, a new report by the International Underwriting Association has revealed. Gross premium written in London totalled £15.150bn, while a further £6.495bn was identified as written in other locations, but overseen by London operations.

The IUA's London Company Market Statistics Report also analyses company market income that may be affected by regulatory changes resulting from the UK's withdrawal from the EU. Of premium currently written in London, £7.337bn will potentially be directly affected by a change in rules governing UK participation in the EU single market and its financial services passporting regime.

This potentially Brexit-related total includes £1.361bn of European premium written in London by firms which are either headquartered in the UK or have a parent company headquartered in a third country and are using their London office to access EU business. In addition, there is a further £5.976bn of international business written in London by firms with a parent company or principle European base located elsewhere in the EU.

Chief executive of the IUA, Dave Matcham, says the statistics highlight the importance of an open trading relationship between the London Market and Europe. "It is vital that a level playing field is maintained, so that companies can operate freely without any need for local licences, regulatory collateral obligations or other special requirements.

"The arrangement must be reciprocal. There are, of course, many firms that rely on London's existing access to the single market to freely write a great deal of business covering clients and risk across continental Europe. At the same time, however, UK membership of the EU also enables many other overseas companies to write, via branch offices, risks that flow to London from across the globe. It is the concentration of all this expertise that makes the London Market a unique international insurance and reinsurance hub."

Restated figures for 2014 show an overall premium income £22.435bn, indicating that over the past year the company market has seen a drop in income of £0.791bn (3.5%). Competitive market pressures, increased use of Lloyd's platforms, company reorganisations and exchange rate fluctuations have all been cited by firms as reasons for this trend.

The allocation of income between different business classes is relatively stable. Marine, however, has dropped from the second to third largest class being overtaken by liability. Property remains the single largest sector accounting for 27% of premium written in London.
Related Articles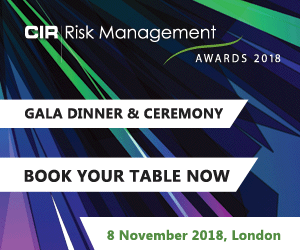 Download the latest
digital edition of
CIR Magazine
Power transmission and distribution risk
Description
Mark Evans talks to Barry Menzies, head of MIDEL ester-based dielectric fluids, at specialist manufacturer M&I Materials, to discover how ester fluids can help reduce the risks associated with transformer applications.
Most read stories...