Lloyd's underwriters told to stop NRA-related business
Written by staff reporter
2018-05-11
Lloyd's of London is to direct underwriters to terminate all insurance connected to the National Rifle Association of America.

A statement from the insurance market said: "The Lloyd's Corporation has given very careful consideration as to whether syndicates at Lloyd's should continue to insure programs offered, marketed, endorsed or otherwise made available through the National Rifle Association of America (NRA).

"This is now subject to an inquiry by the New York Department of Financial Services (NYDFS). Therefore Lloyd's Corporation has decided to direct underwriters in the market to terminate any existing programs of this type and not to enter into any new ones."

The market for these contracts is believed to be worth tens of millions of dollars annually.

The move comes after insurer Chubb was fined US$1.3 million over its role in an NRA insurance program after an investigation found the NRA's Carry Guard insurance program unlawfully provided liability insurance "to gun owners for acts of intentional wrongdoing".

It comes at a time when US gun laws are again under intense scrutiny following mass-shootings in the country. Victims and survivors of an attack in a Florida high school in February have been campaigning for tighter gun controls.
Related Articles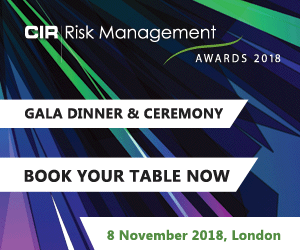 Download the latest
digital edition of
CIR Magazine
Power transmission and distribution risk
Description
Mark Evans talks to Barry Menzies, head of MIDEL ester-based dielectric fluids, at specialist manufacturer M&I Materials, to discover how ester fluids can help reduce the risks associated with transformer applications.
Most read stories...