Insurance CEOs welcome PRA climate initiative
Written by staff reporter
2015-10-01
Insurance company executives and ClimateWise members have welcomed the Prudential Regulation Authority's initiative to be one of the first insurance regulators globally to examine the likely impact that climate change will have on the insurance industry and its customers.

The insurance leaders are also calling for the PRA's report to lead to more urgent collective action to reduce the risks of climate change impacting society, and ultimately the insurance industry.

The PRA report, The impact of climate change on the UK insurance sector, is one of the first examples globally of an insurance regulator examining the impact that climate change risk could have on the insurance industry and its customers.

ClimateWise Chair Maurice Tulloch, also Chairman of Aviva Global General Insurance and CEO, Aviva UK & Ireland General Insurance, said, "The PRA report highlights a number of important risks the insurance industry, its regulators and customers will need to collaborate on in order to build societal resilience to the impacts of climate change both economically and equitably. Yet the greatest priority is to ensure that we minimise the future levels of climate risk we will face. This is why strong action today, to limit global warming to below 2oc, is so important."

Reinforcing the message on the potential impacts of climate change, a recent report authored by Sir David King (the UK Foreign Secretary's Special Representative for Climate Change), entitled Climate Change, A Risk Assessment, noted, for example, that with one metre of global sea level rise, the probability of what is today regarded as a '100-year flood' will become about 40 times more likely in Shanghai, 200 times more likely in New York and 1,000 times more likely in Kolkata.

As the probability of extreme events increases in this way, it typically becomes far more difficult to insure against them – and certainly below levels deemed affordable by customers. The result would be a society less prepared for any future shocks climate change may bring.

This highlights the urgent need for a broader, systemic and more societally focused response to managing the risks of climate change. In an open letter to Bank of England governor Mark Carney, ClimateWise members noted that insurers should be enabled to better align their investment and risk management capabilities, while maintaining the financial security of their clients, so that invested capital flows can contribute to enhancing the overall resilience of society beyond the traditional financial risk transfer role insurance currently plays.

ClimateWise members also called on the PRA to ensure "this engagement is only the first step in a much broader journey of collaboration aimed at managing the impact of climate change risk for the industry and its clients".
Related Articles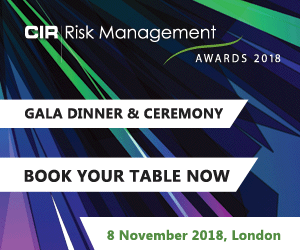 Download the latest
digital edition of
CIR Magazine
Power transmission and distribution risk
Description
Mark Evans talks to Barry Menzies, head of MIDEL ester-based dielectric fluids, at specialist manufacturer M&I Materials, to discover how ester fluids can help reduce the risks associated with transformer applications.
Most read stories...