In at the deep end?
Written by Peter Davy
January 2015
Weather pundits are out in full force as we approach the official start of the UK winter, and after an already very wet 2014, a number of developments have been taking place to address flood risk. Are current efforts enough to dampen concerns? And if not, what can companies themselves do to minimise the impact of flooding, and where is the greatest concentration of risk? Peter Davy investigates

Even the Queen is worried. After the wettest winter on record last year, Her Majesty reportedly quizzed the Met Office's chief scientist recently as to whether unprecedented flooding on her Balmoral Estate could be down to climate change. As the UK sets in for another winter, she's not alone in worrying about a repeat performance.

In October business leaders and insurers called on the government to put an extra £500 million to protect UK homes and businesses. And in November the National Audit Office also warned insufficient spending on flood defences meant half were running at a "minimal level". Margaret Hodge, chair of the Public Accounts Committee, was "deeply concerned" by the findings.

"Current levels of spending are not enough to maintain flood protection, with five million homes at risk of flooding and people's livelihoods in jeopardy," she said. This is despite the fact that, in some ways, the UK seems relatively well prepared for flooding. Swenja Surminski, senior research fellow at the LSE's Grantham Research Institute on Climate Change and the Environment points out that much of the tab for last year's floods was picked up by insurers (£1.1 billion, according to the Association of British Insurers).

"In the UK a lot of the costs are insured, which is quite unique when you compare it to many other countries," she says.

Technology, too, should for some be promoting resilience. For one, the ability to forecast what businesses face in coming winters looks set to improve; in October, the Met Office unveiled plans for a new £97 million supercomputer to boost its powers of prediction and underpin better forecasts and advice to support business, the public and government.

"It will help to make the UK more resilient to high impact weather and other environmental risks," according to Met Office chief executive Rob Varley. In the meantime, technology, particularly the cloud, is already able to help businesses cope better with disruptions such as flooding.

"The cloud is probably one of the most resilient forms of IT infrastructure there is," says Daren Howell, product manager for Sungard Availability Services' operational risk management and people recovery service. It played a part in the relatively low number of companies decamping to Sungard's disaster recovery sites during last year's floods when compared to 2007, when the country sustained significant flooding.

In both cases, however, there remain significant limitations. Most obvious, given the ongoing discussions over Flood Re, is the cost of insurance for those at risk of flooding.
The Flood Re scheme, to be financed by a national levy and set to be introduced next year, is designed to keep insurance affordable for households prone to flooding. However, currently commercial premises will be excluded, with the government citing a lack of evidence that SMEs are struggling to obtain coverage.

Head of enterprise resilience at PwC, Martin Caddick insists this is not the case. He and colleagues have been working with local businesses and councils since the floods of last year. "A lot of people lost quite heavily and, worse than that, now trying to get insurance is very, very difficult," he says. "The feedback we are getting from the field is that it's the big problem."

Many were also caught out by "small print" in their policies, he says. "People were cut off, and customers couldn't get to businesses to buy stuff, but because the water was not within 200 metres of their front door they weren't covered."

Lack of coverage for business interruption is also believed to be an issue, according to LSE's Surminski. "The early indications were that the interruption of business, supplies and customers were bigger problems than physical damage," she notes. There is, however, relatively little information on exactly how SMEs were impacted, and Surminski is working with the Federation of Small Businesses to try to address this. This could help inform future discussions over extending Flood Re.

As for the cloud, to date there's a limit to the impact it has had, particularly for smaller businesses. "I don't think with the word 'cloud' has been mentioned to us once except in the context of rain," says Caddick of his discussions with local businesses.

In part, that's a reflection of the limitations of the technology. Rod Ratsma, head of resilience advisory at Phoenix, points out that it's not much use for businesses that require a physical presence. "It is great, but it only works for people who use computers for a living. If you are doing anything other than sitting in front of a desk and working on a PC – if you're working on cars or have a shop, for example – then you need other stuff."

The result is that many businesses remain significantly exposed and vulnerable – perhaps even more so than in the past. In October, environmental data analysts, AMEE released a report combining data on those SMEs prone to flood risk with those that continued to have weak financial fundamentals following the recession. The results identified 118,354 SMEs both at risk of flooding and with limited capacity to absorb any financial shock. London, with 42,093 vulnerable businesses, had the highest concentration.

Given the role of small businesses in driving recent growth, it suggests a repeat of last winter's flooding could derail the UK's economic recovery, according to AMEE chief executive Tyler Christie. "We are looking at a significant percentage of businesses in the UK that are at risk. Just as we are seeing the recovery gain steam and small businesses starting to build up their employment, more than 100,000 of them are vulnerable to flooding while still struggling financially," he says. Even those businesses that are not vulnerable directly are likely to be exposed in their supply chains.

There is much businesses can do to address the risk, however. According to FM Global's operations engineering manager for Northern Europe, Thomas Roche, its study of the effects of flood damage on businesses over a 10-year period showed that companies with no response plan, or an ineffective plan, suffered an average gross loss of £2.1 million as a result of flooding. For those that did have an effective response plan it was £600,000, a 71 per cent reduction.

"While the potential threat that flood poses to businesses is manifest, it does not necessarily mean the damage it can cause is inevitable," says Roche. "For those businesses based in a flood zone, taking practical and proactive steps can effectively minimise the impact, as well as enabling them to maintain operations and safeguard brand and reputation."

Some of the steps are simple – and should now be obvious. With last winter's floods, for example, businesses could be forgiven for being caught out by groundwater flooding, since in the past they had been used to associating flood risk with either tidal surges of flash flooding surrounding rivers. Now, though, it's a known risk. As Sungard's Howell points out, if you have a datacentre in the basement, you are probably asking for trouble.

Others are more complex, however. Even for those that can use the cloud and rely on remote datacentres for instance, there are a number of challenges. One is that the extent of the floods last winter has raised questions about the location of those services in relation to the business they support.

"Previously if they were more than 10 miles apart that was often considered fine," says Tony Parry, IBM's managing consultant for business continuity and resiliency services. "The scale of floods last year, though, has started to frighten people a bit, and they are asking if they need to make sure they are at the other end of the country, at least 50 or 100 miles apart. If so, that presents a technical challenge and significant cost increases."

He suggests service level agreements with cloud providers should now not just specify levels of availability but also the resilience of the service, such as how far the failover datacentres used by the provider are from each other.
Another increasing concern, he adds, is data corruption, particularly for larger businesses – driven by an explosion in the number of external, online interfaces into key business systems.

"They are worried that they will get creeping data corruption, either accidental or malicious, that ultimately will invalidate the data they have or cost them money by missing payments, not asking for payments or not having goods in stock," he says.

As always, however, the biggest challenge is people. The regional nature of flooding means staffing will always be a key concern. "Particularly if you are a small business located in a floodplain, most of your employees probably live in the same floodplain as well," Ratsma points out.

Emotional impact

It is not just that employees are unlikely to make it in or won't want to if their own homes are flooded at risk; floods can have significant long-term impacts on staff and their families, according to Dr Marion Walker, senior research associate at Lancaster University. She was part of a study funded by The Economic and Social Research Council (ESRC) on the effects of the Hull floods of 2007. As the study noted, "It is often not so much the floods themselves, but what comes afterwards, that people find so difficult to deal with."

"We came away from this study finding that people were emotionally traumatised," says Walker. "It could be six months or a year or 18 months before they are starting to feel like they are getting over it."

That's echoed by recent estimates from New York health officials that about 700,000 residents still have mental health problems resulting from Hurricane Sandy in October 2012.

If anything, businesses need to be thinking about how they can support staff better, rather than how soon they can get them back to work. At the very least, there needs to be more work looking at the emotional effects of flooding.
As a first step, however, businesses should start to plan how they would cope with the impact in the short-term. Much of this is similar to planning for a pandemic, according to Ratsma, with business looking at how they can manage with perhaps 30 per cent or more of workers being absent. As with pandemics, it may mean using shift work to cover gaps. Likewise, as with illnesses such as the flu, it is important to identify beforehand those who are immune and can be relied on in the event of a flood.

"It is public data where floodplains exist," he points out. "Ask people to stick their hand up if they are unlikely to be affected and you can then consider that into your planning. You may discover everyone in your workforce is susceptible, but at least you can figure out the size of the potential problem."


This article was published in the January 2015 issue of CIR Magazine.

Download this article in PDF format

Click here for more features

Contact the editor
Related Articles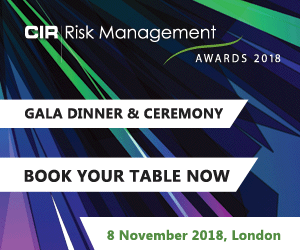 Download the latest
digital edition of
CIR Magazine
Power transmission and distribution risk
Description
Mark Evans talks to Barry Menzies, head of MIDEL ester-based dielectric fluids, at specialist manufacturer M&I Materials, to discover how ester fluids can help reduce the risks associated with transformer applications.
Most read stories...