Hiscox pools expertise to create cyber business unit
Written by staff reporter
2017-12-07
Hiscox has sharpened its focus on cyber by creating a virtual business unit (vBU) to draw together the expertise of its 70 cyber staff across the business.

The firm currently sells cyber-specific products via brokers and carriers through its European, US, London Market and reinsurance operations, as well as direct-to-consumers through its UK retail business. Its cyber products are focused on protecting businesses of all sizes – from entrepreneurs to multi-nationals – as well as individuals.

The cyber vBU will provide dedicated cyber resource and be responsible for ensuring a consistent Group-wide approach to product development, service offering, branding and marketing, underwriting appetite, pricing, rating approach and aggregation/reinsurance protections.

Hiscox Group CUO Richard Watson, said: "Cyber risk is a massive global challenge, and exactly where insurers can prove their worth. We have a strong brand, responsive products, the right customer base and good people in key geographies already. In bringing them together we hope to realise our ambitions in this critical area."

A number of senior appointments within the vBU have already been made, with other roles currently being recruited for: Gareth Wharton, previously Hiscox Group CTO/CIO, has been appointed Cyber CEO; Matt Webb, who has been underwriting at Hiscox for 12 years, has been appointed Cyber CUO and London Market Line Underwriter for cyber; and Craig Dunn has been installed as Head of Cyber Services, and will be responsible for providing Hiscox's cyber customers with effective risk management solutions to help them better manage their exposure.

In addition, Hiscox has appointed dedicated experts for the vBU including a Head of Cyber Pricing, Head of Cyber Claims, Cyber Analyst, and a Marketing, Communications and Sponsorship Coordinator.
Related Articles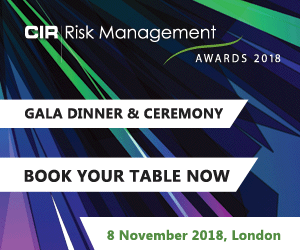 Download the latest
digital edition of
CIR Magazine
Power transmission and distribution risk
Description
Mark Evans talks to Barry Menzies, head of MIDEL ester-based dielectric fluids, at specialist manufacturer M&I Materials, to discover how ester fluids can help reduce the risks associated with transformer applications.
Most read stories...