Ecclesiastical launches new cyber and rep risk covers
Written by staff reporter
2017-09-27
Ecclesiastical is launching enhanced cyber and reputational risk covers for the charity and faith sectors. The updated Charity and Community and Faith and Community products feature increased limits on standard cover, including property on an all risks basis.

Brokers will be able to create a policy bespoke to their clients' needs, with options including protection against cyber risks, business interruption cover including donations and grants, and a crisis helpline to support organisations in the event of an incident.

Cyber cover under the policy includes liability, loss of income and expenses incurred as a result of data breaches and systems damage. Reputational risks provides cover for public relations costs associated with handling adverse publicity, libel and slander and the death of a patron.

Legal expenses cover has been enhanced to offer more support and protection, Including contract disputes and debt recovery as standard. Trustee and management liability cover is included automatically up to £100,000, with the option to increase limits and add more cover.

David Britton, charity director at Ecclesiastical, said: "With cyber attacks becoming more frequent and General Data Protection Regulation coming into force in May 2018, data protection and compliance will become an even bigger issue for the 45,000 charities, voluntary groups and not-for-profits we insure.

"We know from research with sector think-tank, New Philanthropy Capital (NPC), and with our own charity customers that cyber and reputational risks are among their top concerns. The changes we have made to our charity products are in response to that insight and the feedback we've had from brokers and their customers.

"And with buildings, contents, personal possessions and stock cover provided on an all risks basis, brokers can have peace of mind that their clients are in safe hands should the worst happen."

The updated product sees money cover increased for fundraising events; assault cover now includes hospital benefits and equipment breakdown cover is included as standard. It also allows for seasonal stock increases, protection for bequeathed property and cover for raffle prizes and goods donated in advance of events, exhibitions and festivals.
Related Articles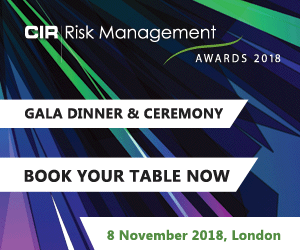 Download the latest
digital edition of
CIR Magazine
Power transmission and distribution risk
Description
Mark Evans talks to Barry Menzies, head of MIDEL ester-based dielectric fluids, at specialist manufacturer M&I Materials, to discover how ester fluids can help reduce the risks associated with transformer applications.
Most read stories...