IOT: Connect and protect?
Written by Graham Buck
June 2017
Does our brave new world of interconnectivity offer exciting new opportunities for insurers or a veritable liability nightmare? Graham Buck investigates the insurance dilemmas of the Internet of Things

The accelerating pace of technological change is transforming industries, while posing as many questions as it opens new opportunities. Among the issues that insurers must address is their response to the Internet of Things (IoT), summarised as "a web of connected devices, machines, people and organisations that can interact with one another".

Or as Nic Berg, head of liability and financial lines at AIG Europe, explains: "The IoT is a technological revolution, which is data driven and could do away with many inefficiencies, hassles, dangers and unsafe practices of modern life.

"A decade ago there were about 500m devices connected to the Internet. In five years' time, there could be 40 to 50 billion. The world is producing more data than ever before and, critically, we are moving it around and using it with increasing frequency. At the centre of this data will be the insurance industry, which uses massive amounts of data to understand and mitigate risk."

The advent of IoT promises a coming decade ahead marked by widespread adoption of smart homes and driverless cars, and the automation of workplace tasks. Management consultancy AT Kearney predicts that by 2025, IoT will be "pervasive" for both consumers and businesses, as connected 'things' drive a data explosion with sensors embedded in cars, buildings and wearable devices – so that a family of four could have more than 100 connected devices.

This fast-approaching world is noted by the Association of British Insurers (ABI), whose Data Conference in London this October will focus on IoT-related issues. "Over the last two years digitisation has continued to accelerate, and is increasingly revolutionising all aspects of insurance and savings firms' businesses," the ABI notes.

"Technology is facilitating new operating models and new customer relationships; huge volumes of data provide insights firms have never had access to before, and cyber risks create both operational and underwriting challenges to engage with."

Berg agrees that industries and individual companies stand to gain by implementing IoT objects into their business model, thereby uncovering newer and better ways of doing business. "At the same time as solving problems, it will also bring new risks and create entirely new dilemmas, both procedural and ethical," he notes. "While businesses must begin to implement IoT technology, they also must implement strategies that account for the many risks associated with it."

"For example, cyber breaches are already a major threat to businesses today. But the more we automate and connect devices and systems, the greater the number of entry points at which a breach could occur. Equally, if a device malfunctions it potentially could feed incorrect data to another device, then rapidly infect more and more systems. If we consider a natural disaster, such as flooding, malfunctioning sensors might monitor the integrity of dams and levees that could lead to massive property damage, or even loss of life."

Dream or nightmare?

So does IoT represent opportunity or challenge? While ABI chairman and Axa chief executive, Paul Evans, is generally optimistic; achieving positive results requires a greater fusion between underwriting and technology, according to Sarah Stephens, partner at broker JLT Specialty and head of the cyber, content and new technology risks within the financial lines group. "Partnerships between insurance and security tech firms create the potential ability to dynamically measure risk and actively prevent losses from occurring. "This is a huge opportunity to dramatically decrease risk and encourage innovation, and IoT – with its pervasive cyber risk profile – is an excellent place to start."

Among those considering how this might be accomplished is Hood Group, a 'protect and select brand', according to head of marketing, Gavin Dobson. Launched in the Eighties, Hood provides white label insurance products and services for a several well-known brands, recently extending its activities into the affinity market.

In February, Hood set up its own innovation lab in London's Spitalfields district to assess where insurance might move in future and assist development of products, services and solutions to match customers' needs. It aims to attract a range of start-up businesses and Insurtech businesses. "We want a pipeline of ideas to evaluate and prioritise," said CEO Simon Hood. "With rigorous evaluation and analysis and testing to ensure the idea is both a game changer as well as commercially viable."

On the issue of whether IoT-related insurance is promising business opportunity or potential liability nightmare, Dobson believes that it's probably somewhere between the two, with potential new revenue streams offset by a need to carefully assess the risk aspect and mass of resulting new data.

"Hood regards it as an opportunity and one that gives us a greater understanding of our customers and their lifestyles, in judging where we can add value in different ways," he asserts. "We could also see insurance develop more as a risk prevention tool rather than something there to mop up the damage after an incident occurs."

Back to the drawing board

Dobson agrees that future insurance products could see monoline policies replaced by a single multi-line cover for individuals and businesses against a wide range of risks. "Insurers have no option but to respond with new IoT-related products and services," he suggests. "Consumers will have a huge amount of data at their disposal and – as owners of that data – much greater power. They will also have a greater ability to understand and manage their own risk.

"Different and separate lines of cover for household, motor, travel and others has worked..until now but this is changing because of the mobility of new devices. For example, my mobile phone is covered under a number of policies and there is a great deal of cross cover. Certainly, if you were designing insurance from scratch today, it would be much more of a lifestyle-related product."

Stephens agrees the industry's products are ripe for redesign. "There's a misconception that cyber insurance provides an 'all-risks-anything-related to the Internet' comprehensive cover, when the reality is that there's a great deal of fluidity in the current insurance market about whether cyber should be considered a peril or a separate line of insurance. When considering how to address the potential impacts of IoT loss scenarios, there's no 'one-size-fits-all' approach."

There are already tentative signs of IoT technology being used for specific insurance cover. Mobile network operator O2 recently launched O2 Drive, a product for young drivers that encourages responsible motoring. O2 Drive includes a telematics option, Box on Board, offering those who have it fitted a premium discount from the outset. Box on Board provides access to driving data and scores via an accompanying mobile app, which also gives practical help on owning and driving a car safely, from information on emergency breakdown assistance to correct procedure following an accident.

Another example is RSA's launch for its More Than customers of LeakBot. Developed by home technology specialist HomeServe Labs, LeakBot is a smart connected device to help protect homes by detecting water leaks on the mains water supply before they can create damage.

The adoption of smart sensors that constantly compile data on a household's water usage, heating level, energy consumption and others could be used for early detection and prevention of other problems, adding to existing discounts provided for homes fitted with smoke detectors and burglar alarms.

So what are the concerns about IoT? One worry is the security of data and the ability of third parties to tap into it; for example, potentially enabling criminals to check when a home is unoccupied. Also, the value of IoT-enabled data suggests that the commercialisation of that data could become a major issue – one that Dobson believes hasn't yet been addressed.

AIG's Berg adds a further warning. "As objects become autonomous – and start having an identity or acting on their own – we see concerns over liability. If a passenger is injured by a driverless car, would they have a case against the car manufacturer? Equally, with billions of devices collecting data, the lines get blurred on who is responsible for what data."


This article was published in the May 2017 issue of CIR Magazine.

Download in PDF format

Click here for more interviews and analysis

Contact the editor

Follow us on Twitter


Related Articles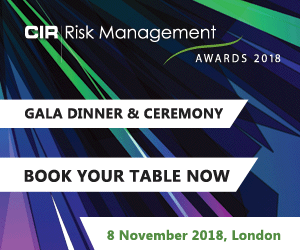 Download the latest
digital edition of
CIR Magazine
Power transmission and distribution risk
Description
Mark Evans talks to Barry Menzies, head of MIDEL ester-based dielectric fluids, at specialist manufacturer M&I Materials, to discover how ester fluids can help reduce the risks associated with transformer applications.
Most read stories...