Banco Pichincha deploys MetricStream for business continuity
Written by staff reporter
2014-12-10
Ecuador's largest private bank, Banco Pichincha, is deploying MetricStream's cloud-based solution for business continuity management to help minimise the impact of business disruptions as well as aid in crisis and incident management planning by streamlining and automating the BCM lifecycle. It will also provide an integrated framework to collaboratively manage all BCM processes, including BIA, business continuity planning, testing of plans, and issue management and remediation. The solution will be rolled out in Spanish to support local users.

Banco Pichincha is the largest private bank in Ecuador with over 300 branches. The organisation has 2.8 million customers, over 6,100 employees and 800+ points of service across the country. The bank has subsidiaries in Peru and Colombia, as well as an agency in Miami, and eight representative offices in Spain.

"As Banco Pichincha continues to expand its operations in new locations, we needed a solution that could scale across the organisation, and bring together all of our business continuity management processes and data into one centralised environment," said Juan Carlos Beltrán, operational risk manager at Banco Pichincha. "Our goal is to take our business continuity programme to a new level of efficiency and efficacy using software as a service, so that we can proactively monitor and mitigate the threat of business disruption. We believe that MetricStream's solution can help us achieve these objectives."

MetricStream's BCM solution will be used by over 200 users in Banco Pichincha, spread across Ecuador and other Latin American countries. The solution incorporates a range of BCM frameworks and standards such as ISO 22301, which can be clearly mapped to the bank's plans and procedures to strengthen their approach to BCM.

The solution will also enable a closed-loop, automated approach to the development and testing of BCP strategies and plans on an on-going basis. Users will be able to track the status of these processes in real time through powerful dashboards and reports. Any issues that arise during BCP testing will be flagged and routed through a systematic process of investigation and remediation.

The solution will also integrate with the bank's ERM framework, importing data on organisational structures, processes, risks, and controls that are critical to BCM. It will export risk data based on the results of BCP tests and the status of action plans.
Related Articles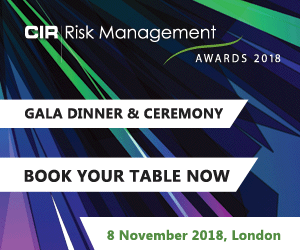 Download the latest
digital edition of
CIR Magazine
Power transmission and distribution risk
Description
Mark Evans talks to Barry Menzies, head of MIDEL ester-based dielectric fluids, at specialist manufacturer M&I Materials, to discover how ester fluids can help reduce the risks associated with transformer applications.
Most read stories...