Aon to acquire NYC-based cyber risk firm
Written by staff reporter
2016-10-11
Aon Risk Solutions has entered into an agreement to acquire New York-based risk management firm, Stroz Friedberg, a global risk consultancy with offices across the US, in London, Zurich, Dubai and Hong Kong. Financial terms were not disclosed and the acquisition is subject to customary closing conditions.

The acquisition will extend Aon's cyber risk brokerage offering and create a combined Cyber Risk Management Advisory Group offering standards-based cyber assessments and risk transfer solutions.

Stroz Friedberg's more than 550 employees will join Aon's Cyber Solutions Group. Michael Patsalos-Fox, Stroz Friedberg's CEO, will become the CEO and co-chair of Aon's Cyber Solutions Group. John Bruno, Aon's executive vice president of enterprise innovation and chief information officer, will join Patsalos-Fox as co-chair of this new group.

"Technology-enabled businesses in all industries and the instability from cyber threats are increasing. This acquisition will allow Aon's clients to have access to the most advanced thinking and solutions in the industry; improving their proactive posture to confront cyber risk and respond more effectively in the event of an attack," Bruno said. "Aon and Stroz Friedberg have highly complementary end-to-end cyber risk management solutions and services. This bold step greatly expands Aon's cyber solutions and differentiates us from our competition while accelerating innovation on behalf of our clients."
"Both Stroz Friedberg and Aon know that businesses face greater systemic risk from cyber threats than ever before, and both understand that companies need an integrated approach to mitigate this risk and achieve resilience," Patsalos-Fox said. "Stroz Friedberg has always been focused on helping its clients navigate today's complex risk landscape. By joining forces with Aon we will have the scale and platform to satisfy the growing market need for a comprehensive solution."

This latest development follows the recent release of Aon Cyber Enterprise Solution, a property/casualty and Internet of Things insurance solution.
Related Articles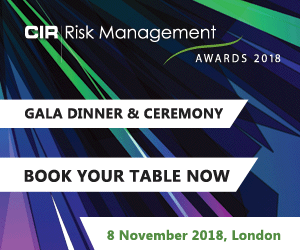 Download the latest
digital edition of
CIR Magazine
Power transmission and distribution risk
Description
Mark Evans talks to Barry Menzies, head of MIDEL ester-based dielectric fluids, at specialist manufacturer M&I Materials, to discover how ester fluids can help reduce the risks associated with transformer applications.
Most read stories...