Airmic focuses on ERM with new Special Interest Group programme
Written by staff reporter
2018-05-10
Airmic is launching a new ERM Special Interest Group (SIG) in the autumn, reflecting the association's ambition to develop a stronger presence in wider risk management.

Julia Graham, technical director of Airmic, said: "Our members tell us that over 70% of them have a responsibility for risk management in their organisations. Intangible risks like cyber do not respect the boundaries of the more traditional risks and insurance solutions also increasingly demand an enterprise-wide understanding of risk."

Whilst the SIG's direction, approach and frequency of meetings will ultimately be determined by its members, the current schedule involves four quarterly 90-minute breakfasts, starting in November. The initial programme is set out below.

   •   November 2018: ERM Fact or Fiction?
   •   February 2019: Insurance and Risk management - effective collaboration
   •   May 2019: Positioning ERM as adding value value
   •   September 2019: Risk registers vs scenarios

The plan is to start each meeting with a short presentation from a member or external expert to stimulate discussion. "We know that many of our members are involved in Enterprise Risk Management within their organisations, and this SIG is intended to give them a platform for discussion and exchanging ideas," said Airmic's research and development Manager Georgina Wainwright. "As more organisations develop a holistic approach towards risk, we believe that even members with a more technical remit will find it valuable to develop an understanding of these issues."

The new SIG will be separate from the Risk Management Steering Group, an executive committee that reports to the Airmic Board and makes recommendations about future association activity in this area.
Related Articles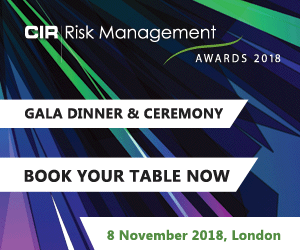 Download the latest
digital edition of
CIR Magazine
Power transmission and distribution risk
Description
Mark Evans talks to Barry Menzies, head of MIDEL ester-based dielectric fluids, at specialist manufacturer M&I Materials, to discover how ester fluids can help reduce the risks associated with transformer applications.
Most read stories...