Airmic appoints new CEO
Written by staff reporter
2017-04-06
Airmic has announced the appointment of John Ludlow as chief executive of the association. Ludlow has over 15 years' experience in senior risk management positions and has been a director of Airmic since 2012, including a year as senior deputy chair.

Previously, Ludlow was SVP and head of global risk management at InterContinental Hotels Group. This was preceded by 15 years of senior operational leadership roles in hotels, restaurants and pubs. He is a Certified Fellow of the Institute of Risk Management and visiting fellow at Oxford Brookes University School of Hospitality Management.

On 13th June 2017, Ludlow will take over from John Hurrell who announced his decision to step down in January this year, after nine years as chief executive. Hurrell stated: "I have loved my time at Airmic and I'm very pleased that the association will be going forward under such an excellent new leader. John Ludlow is an outstanding professional who is passionate about risk management. Airmic will be in very good hands."

The official transition will take place at Airmic's annual general meeting on 13 June at the association's annual conference in Birmingham.
Related Articles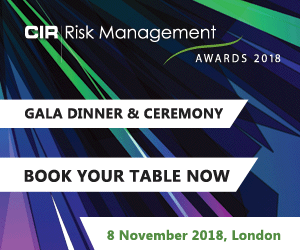 Download the latest
digital edition of
CIR Magazine
Power transmission and distribution risk
Description
Mark Evans talks to Barry Menzies, head of MIDEL ester-based dielectric fluids, at specialist manufacturer M&I Materials, to discover how ester fluids can help reduce the risks associated with transformer applications.
Most read stories...