US$200bn of cyber crime laundered every year
Written by Mark Darvill-Evans
2018-03-16
An academic study into the macro economics of cyber crime and laundering estimate that US$80-US$200bn are 'cashed out' each year, and in total cyber criminal proceeds make up an estimated 8 to 10% of all illegal profits laundered globally.

The findings, part of a larger nine-month study titled Into the Web of Profit and sponsored by Bromium, report the use of virtual currencies as the primary tool used by cyber criminals for money laundering. However, Bitcoin is now out of favour with the criminal elements who increasingly use to less recognised virtual currencies that provide greater anonymity.

Another laundering system exists around in-game purchases and gaming-related laundering; with China and South Korea becoming hotspots for gaming-currency laundering. But the rise of digital payment systems in all kinds have helped the laundering of money – often involving the use of micro-laundering techniques where multiple, small payments are made so laundering limits aren't triggered.

Many cyber criminals are using virtual currency to make property purchases which convert illegal proceeds into legitimate cash and assets. Websites such as Bitcoin Real Estate, unlike cash purchases which are subject to regulation and scrutiny, allow properties to be purchased with crypto currency are not as closely scrutinised. The study also found that nearly 25% of total property sales are predicted to be in crypto currency in the next few years.

However, the report highlights that law enforcement agencies are now monitoring Bitcoin, causing many cyber criminals to look for alternatives. Information on bitcoin transactions can leak during web transactions – typically via web trackers or cookies. This means that connecting transactions to individuals is possible in up to 60 per cent of Bitcoin payments.
Into the Web of Profit is a nine-month academic study by Dr. Mike McGuire, senior lecturer in Criminology at Surrey University. It draws from first hand interviews with convicted cyber criminals, data from international law enforcement agencies, financial institutions, and covert observations conducted across the Dark Web.
Related Articles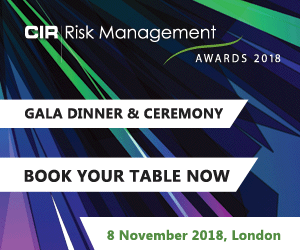 Download the latest
digital edition of
CIR Magazine
Power transmission and distribution risk
Description
Mark Evans talks to Barry Menzies, head of MIDEL ester-based dielectric fluids, at specialist manufacturer M&I Materials, to discover how ester fluids can help reduce the risks associated with transformer applications.
Most read stories...