Pen and Zurich agree £150m capacity deal
Written by staff reporter
2017-09-28
Pen Underwriting has entered into a long-term capacity deal with Zurich in the area of hazardous and tanker transportation. The agreement will see Zurich provide capacity for up to £150m in premiums over the next five years for Pen's hazardous goods and environmental motor fleet solution (formerly OAMPS) which is tailored to the specific needs of different segments of the high hazard transportation and distribution sector including fuels, chemicals and liquid waste as well as non-hazardous tanker operators.
.
Managing director of Hazardous Goods & Environmental Industries at Pen Underwriting, Adam Shefras, said: "We're delighted to have secured a long-term commitment from Zurich to continue supporting our specialist fleet insurance solutions for this highly specialist market. Our track record in writing profitable business with well-managed loss ratios in an industry where risk is, by definition, everywhere, has given us a sustainable underwriting footprint and is thanks to the knowledge and experience of our sector specialists -- many of whom have been with us for 15 years or more."

The hazardous industries motor fleet solution includes legal liability for damage caused by spillage or crossover/wrongful delivery as a result of driver error or omission; 24/7 Environmental Response Service; environmental statutory liability up to £1m; £10m third party property damage including hazardous goods; and new replacement vehicle cover for vehicles less than 12 months old (including commercial vehicles) where repair costs exceed 50% of the manufacturer's recommended retail price.
Related Articles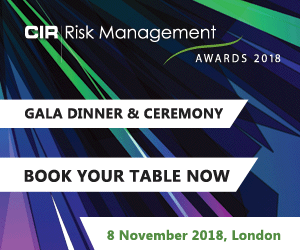 Download the latest
digital edition of
CIR Magazine
Power transmission and distribution risk
Description
Mark Evans talks to Barry Menzies, head of MIDEL ester-based dielectric fluids, at specialist manufacturer M&I Materials, to discover how ester fluids can help reduce the risks associated with transformer applications.
Most read stories...